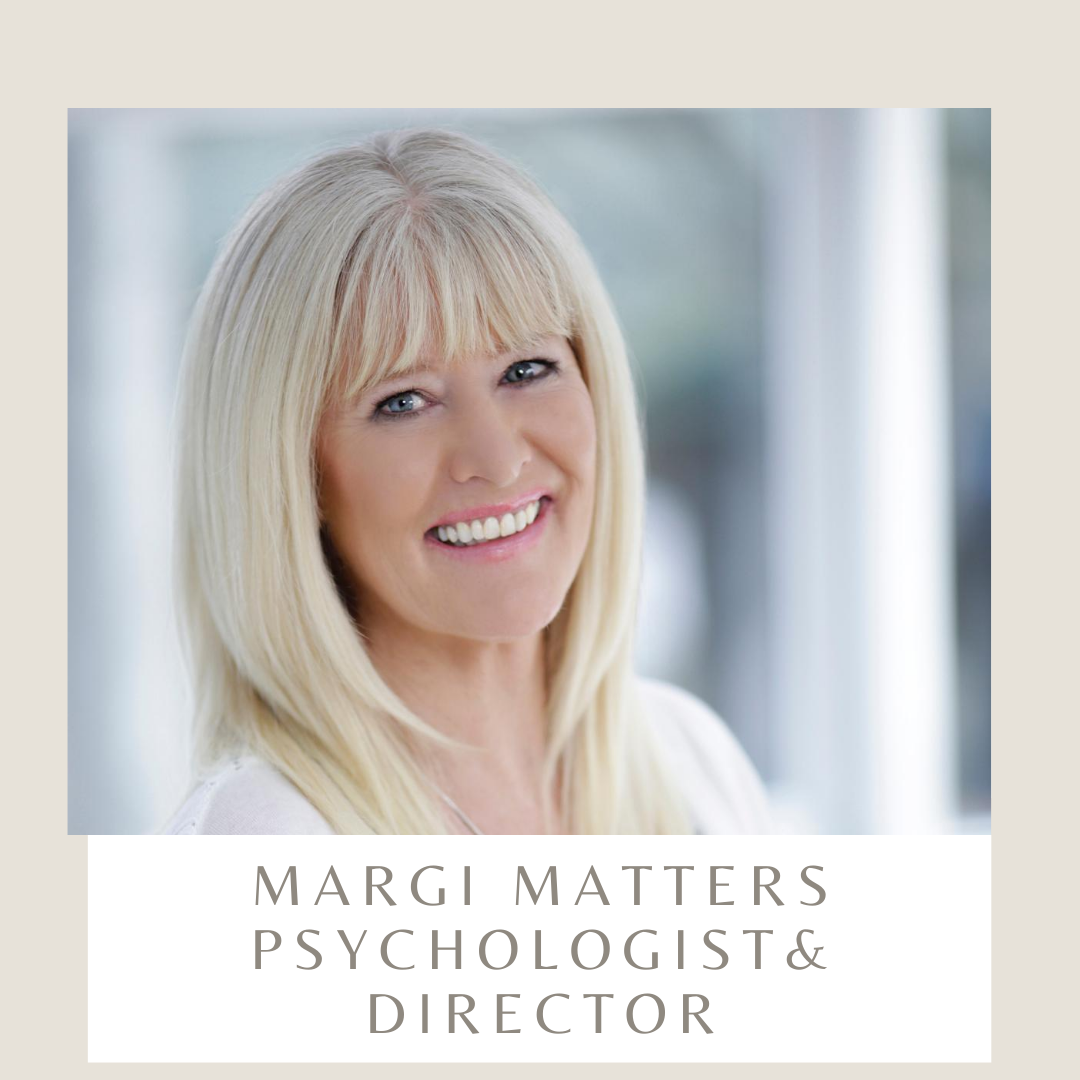 PSYCHOLOGIST & LIFE COACH
    30+ YEARS EXPERIENCE
RE-SET BELIEFS & MINDSETS
TAP YOUR VAST POTENTIAL
RESOLVE FEELINGS & CONCERNS
REDUCE STRESS & ANXIETY
ENRICH RELATIONSHIPS
book an appointment with margi
A LITTLE BIT ABOUT ME:
I have always been fascinated by our inner world, the meaning of life, human behaviour and 'what makes us tick'.
Frequently I would be sitting at a bus stop or standing on a queue and people would open up to me in ways that often lead to extending the conversation and catching the next bus. Often people shared things they said they had not told another soul. It was these 'bus stop experiences' that fueled a deep desire to learn how to truly be helpful. My vocation had found me.
After more than 30 years in my Psychologist career, I am still as enthusiastic and passionate about assisting people to live happier and easier lives. Working with both individuals and couples, I've enjoyed helping many thousands of people with a vast range of difficulties, concerns, and goals.
Along the way, a rich and diverse foundation of therapies, knowledge, skills, tools, and techniques have been accumulated. This allows me to tailor your counselling and resourcing experience uniquely to you. I embrace Positive Psychology and also offer therapies such as Mindfulness and ACT (Acceptance and Commitment Therapy).
I have extensive experience providing counselling and therapy for past trauma. Abusive experiences in earlier years and in adult life, can have such a profound long term impact on all areas of living. I have worked in crisis situations and with many, many survivors of childhood sexual abuse and other forms of abuse and neglect.
Varied work settings range from managing a sexual assault crisis and support service to counselling in TAFE to managing a University counselling service. The last 20 years have been in private practice.
For nearly a decade I also fit in a teaching load. I enjoyed the many pleasures of inspiring people in subjects like counselling, professional development and human behaviour. My passion for writing included newspaper columns for several years, magazine contributions and co-authoring the book Spirituality In The Workplace.
Early training as a Business and Life Coach has complemented my work as a Psychologist.
MY APPROACH:
Compassionate and genuinely caring, my professional style is warm, accepting and friendly. You will feel at ease very quickly and easily. I embrace a collaborative approach, working together to bring you to where you want to be.
Core elements of a counselling experience with me may include:
come to better know yourself, and understand yourself
gain a deeper understanding of human behaviour and experience
be resourced with a huge variety of skills, tools and strategies
work on any aspect of your life or problem situation, that is not how you would like it to be
choose brief solution focused work for a pressing problem or concern
reset yourself – from building confidence to reducing anxiety, depression and stress
learn powerful techniques for managing emotions
learn the most effective ways to manage your mind
adjust beliefs and how you process information
adjust behaviours and habits
clear confusion, self doubt and uncertainty
allow new decisions and different choices to become available
set clear goals and design strategies to manifest these goals
I endeavour to make each session as rewarding and enjoyable as possible. 
People see me for a huge variety of reasons. Some of the most popular include:
Anxiety, panic attacks and phobia
Fears and limitations
Self esteem, self acceptance and confidence
Depression
Personal power and empowerment
Trust issues
Stress, feeling overwhelmed
Uncertainty or confusion
Healing for trauma or abuse (from childhood, sexual abuse and domestic violence)
Relationship difficulties and unresolved issues
Enrichment of relationships (partners, family, work colleagues and friends)
Managing conflict
Emotional difficulties – anger, hurt, sadness and guilt amongst others
Developing essential life skills like communication skills, assertiveness and problem solving
Decision making
Life coaching and future happiness proofing
I enjoy empowering you in ways that benefit you for the whole of your life. You are resourced in practical ways with tools, techniques, strategies and information.
I delight in opening you to new possibilities and choices for yourself, your relationships and your life.
How we understand and manage our minds, our hearts and feelings and our bodies and habits, determines the quality and enjoyment of our lives.
The focus may be setting you free from the past or from limiting beliefs and fears.
I believe your relationship with yourself is the foundation for happiness, fulfillment and success in every area of your life.
Strengthening your self esteem, self acceptance and confidence is one of my favourite focus areas.
The choices and decisions you make are continually shaping your life. Learning how to make the 'right' decisions for yourself is a powerful life skill to develop.
Learning how to be true to yourself is a core theme. 
You can discover what gets in the way of making the choices or changes you'd like to make. You learn how to move beyond blocks and barriers. We develop what you need, to be able to implement your desired changes. These adjustments may be in yourself, or in your relationships or in any area of your life.
You may be seeking help to heal the past. Or to resolve problems in the present. Or to effectively reset your future. Whatever the focus, I aim to make the process as beneficial and enjoyable as it can be.
'What the mind can conceive and believe, the mind can achieve.'
Napoleon Hill 1937.
more about margi